FAQ and Сontacts
FAQ
In Lunacy v.8.7.2, instead of icons I see the no connection message in the left panel. How can I fix it?
We have fixed this issue in our beta build (8.8.0.xxxx). To install it, use the following links:
Later on, if you decide not to update to further beta versions, go to Help > About and unselect the Check for Beta Updates checkbox.
Lunacy does not open the file I previously worked on. How can I fix it?
Try the following:
Install beta of v.8.8 (see the links in the previous section).
Go to Help > Open App Data Folder. This will open a folder with Lunacy files.
Open the Documents folder. It will show subfolders with weird names. These are the files you worked on. For convenience, you can sort them by the Date modified column.
Try to remember the date when you last modified the file, and drag-and-drop the subfolders with this modification date onto the canvas. Lunacy will try to restore the file.
If this doesn't help, contact our support team via Help > Report a Problem and attach an archive with the Documents folder to the report.
Where are the plugins?
We removed the support for external plugins in version 8. That was a trade-off we had to make in order to release Mac and Linux versions. We're planning to restore the feature in one of the upcoming releases.
Where is the suggestions panels?
We decided to revamp the suggestions panel. The new version will appear in one of the upcoming releases.
Is it really free?
Yes. Lunacy is absolutely free: no hidden charges, no ads, no locked features. You can purchase our built-in assets (icons, photos and illustrations created by our team) in high quality if you need them for your project or if you just want to support us.
Can I change the radius of a certain corner in a shape?
Thank you. That is one of our favorite questions. Check out the demos here, here and here.
I'm new to Lunacy. Where I can learn how to get started?
You can:
Do I need internet connection to use Lunacy?
If you are not going to use the content of our Libraries, Lunacy doesn't need to be connected to the internet.
Also, without an internet connection you won't be able with cloud-based files. But you can work with local files that you keep on your computer.
The content of Lunacy libraries is not loading. Why?
If you are sure that your internet connection is OK, contact us via the feedback form (in Lunacy, go to Help > Report a problem).
How can I be sure that I won't lose my work if Lunacy crashes?
We understand how painful and frustrating it can be when you suddenly lose your unsaved progress due to a power outage, application crash, or things like that. That is why Lunacy features a mechanism that saves all your actions with local files. You don't even need to save them before closing: in such a case, Lunacy will even remember all undo/redo operations. If Lunacy suddenly crashes, it will re-open the file right where you stopped.
How can I downgrade Lunacy to one of the previous versions?
Uninstall the current version of Lunacy.
Download the required version and install it. The full list of versions with links to installers is here.
Lunacy is slow. How can I fix it?
The most common reason for Lunacy getting slow are:
Too many large-size images in a document. This often happens when a user imports lots of high-resolution images and then shrinks them to required dimensions.

Workaround: Replace current images with their less heavy copies.

Too many shadows and blurs.

Workaround: Avoid excessive usage of shadows and blurs.

Too much heavy content on a single page.

Workaround: Try to move a part of the content to another document page.

Large amount of text converted to outlines.

Workaround: Avoid converting large blocks of text (sentences or paragraphs) to outlines.
Is there a way to enhance Lunacy performance by adjusting video card settings?
If your computer features a discrete graphics card, you can adjust your graphics settings so that Lunacy will always use the discrete card.
The following will work for the majority of Windows 10 computers:
Go to Start > Settings > Display > Graphics settings.
Click Browse and browse to the Lunacy.exe file (the default path is C:\Program Files\Lunacy\Lunacy.exe).
Click Options and set Graphics preference to High performance.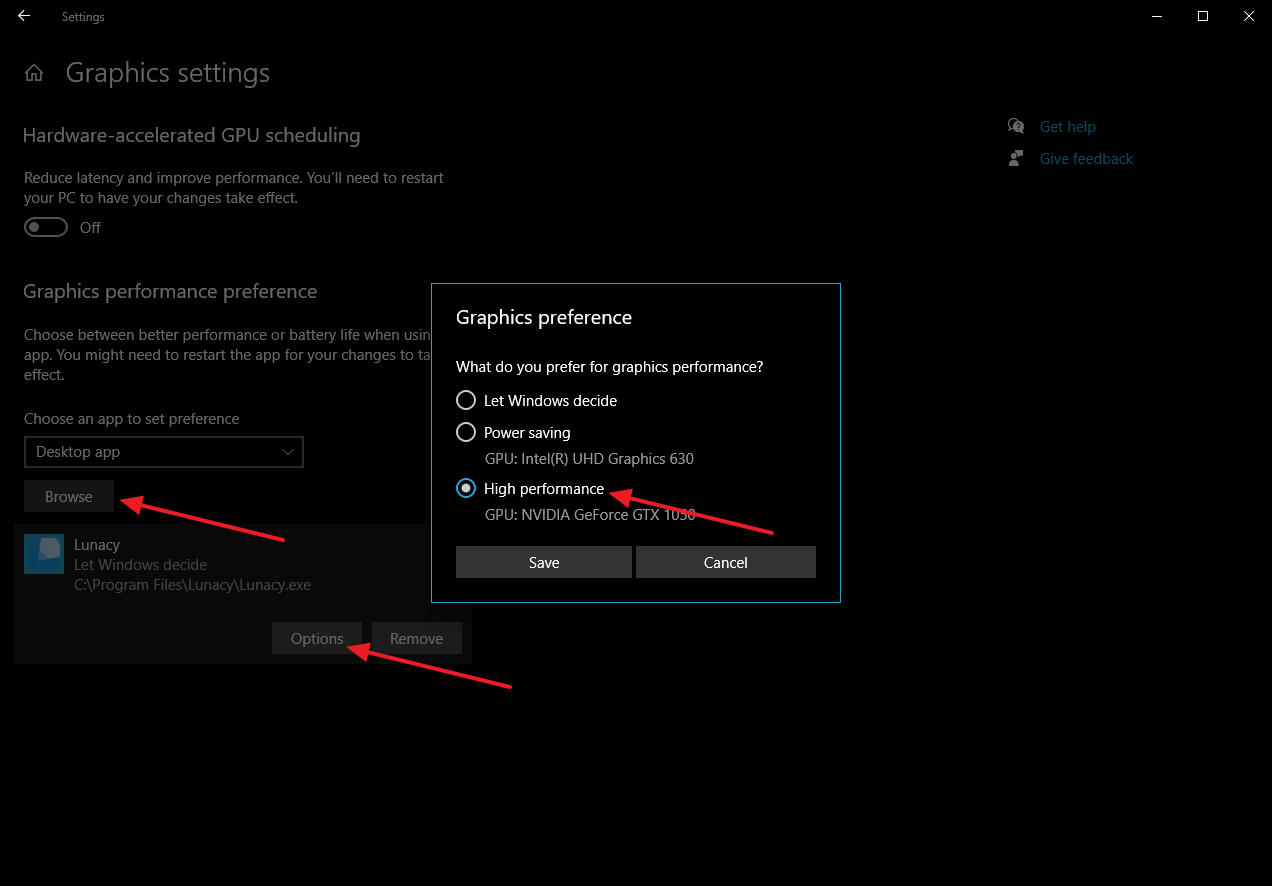 If you are running an older Windows version, you can try to do the same using your video card control panel. The figure below shows settings of an NVidia card.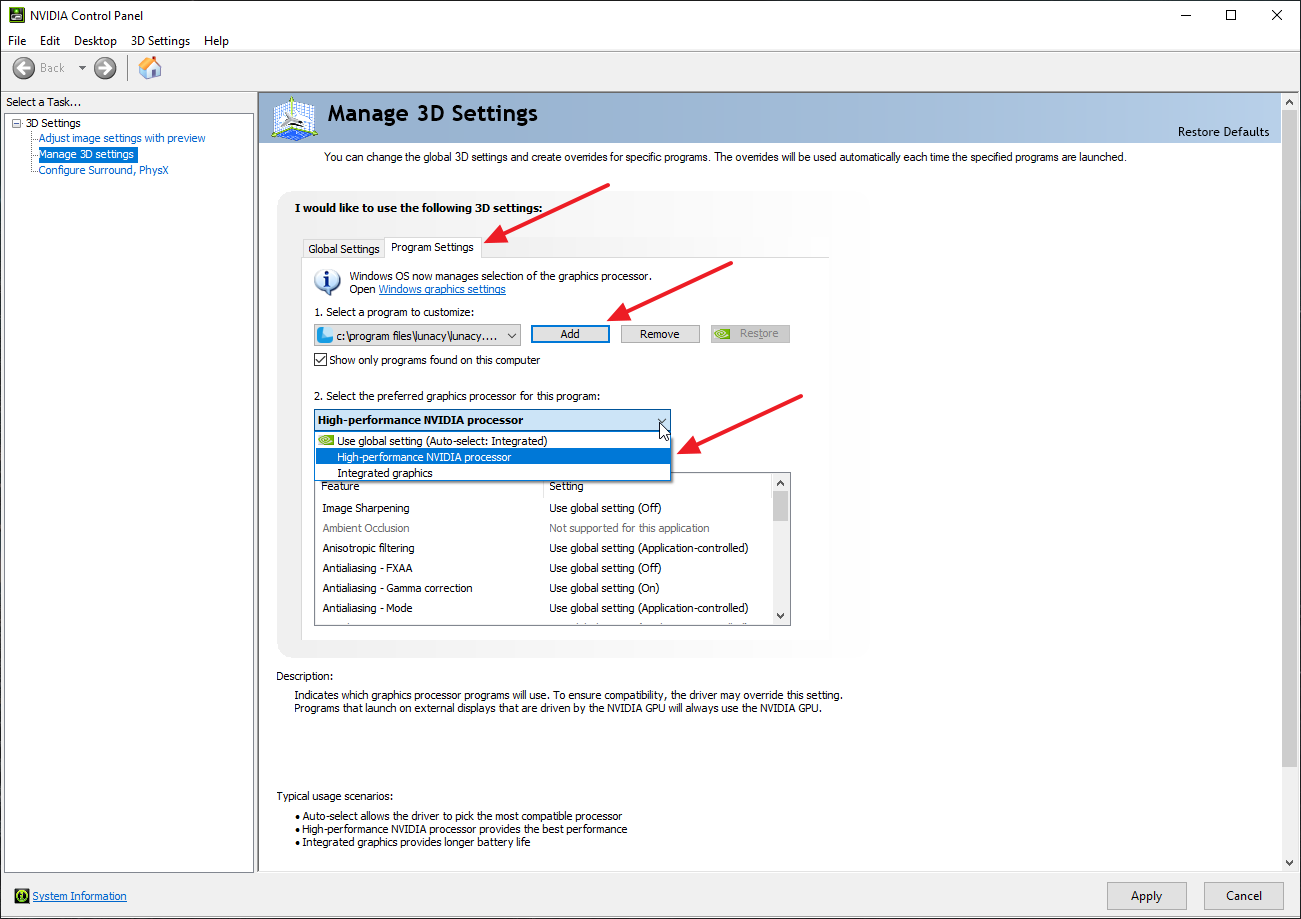 Note: These settings won't work in the energy saving mode and with some system configurations.
Objects and images on the canvas are stretching and/or flickering on scroll and zoom. How can I fix it?
This is a known issue that typically occurs on Windows 10 computers with Intel CPUs and some latest models of video cards (for instance, GeForce RTX 20 Series).
Try the following:
Install the latest stable version of drivers for your video card from the manufacturer's website.
Make sure that you have all the latest Windows updates installed.
Install the latest update of the Intel chipset driver from the manufacturer's website.
If the above steps have no effect:
Open the Windows Task manager and switch to the Services tab.
Stop the Nahimic service (an audio service).
Restart Lunacy.
If this helps, report the problem to the manufacturers of your video card and motherboard. If not, contact our support team.
I found a bug. How can I report it?
Contact us via the feedback form (in Lunacy, go to Help > Report a problem) and provide the details of the problem for us to reproduce it. If a problem manifests itself only with a specific file, please attach the file to the report. Don't worry about the content of the file, we will delete it after investigation.
Why does my antivirus flag Lunacy as suspicious?
Lunacy is free of viruses or spyware but in some rare cases false positives might occur.
If you installed Lunacy from the Microsoft Store, you should bear in mind that no app can appear in the Store until checked for malicious code.
If you downloaded Lunacy from our web site and want to be sure, you can upload and check the installer at https://www.virustotal.com/gui/home/upload. It is an acknowledged free online antivirus service.
After that, add the Lunacy installer and/or the application itself to the exception list of your antivirus software.
Lunacy won't run. How can I fix it?
Make sure that:
You have installed all the latest Windows updates and that you are not using an insider build. Lunacy is intended to run on Windows 10 and 11. You can try to run it on Windows 7 and 8, but we do not not guarantee smooth operation of the app on these versions.
You are using the latest stable version of the driver for your video card.
Your user account has enough rights to run applications. Try to run Lunacy as administrator.
Your antivirus is not blocking Lunacy. Disable virus protection and try to launch Lunacy.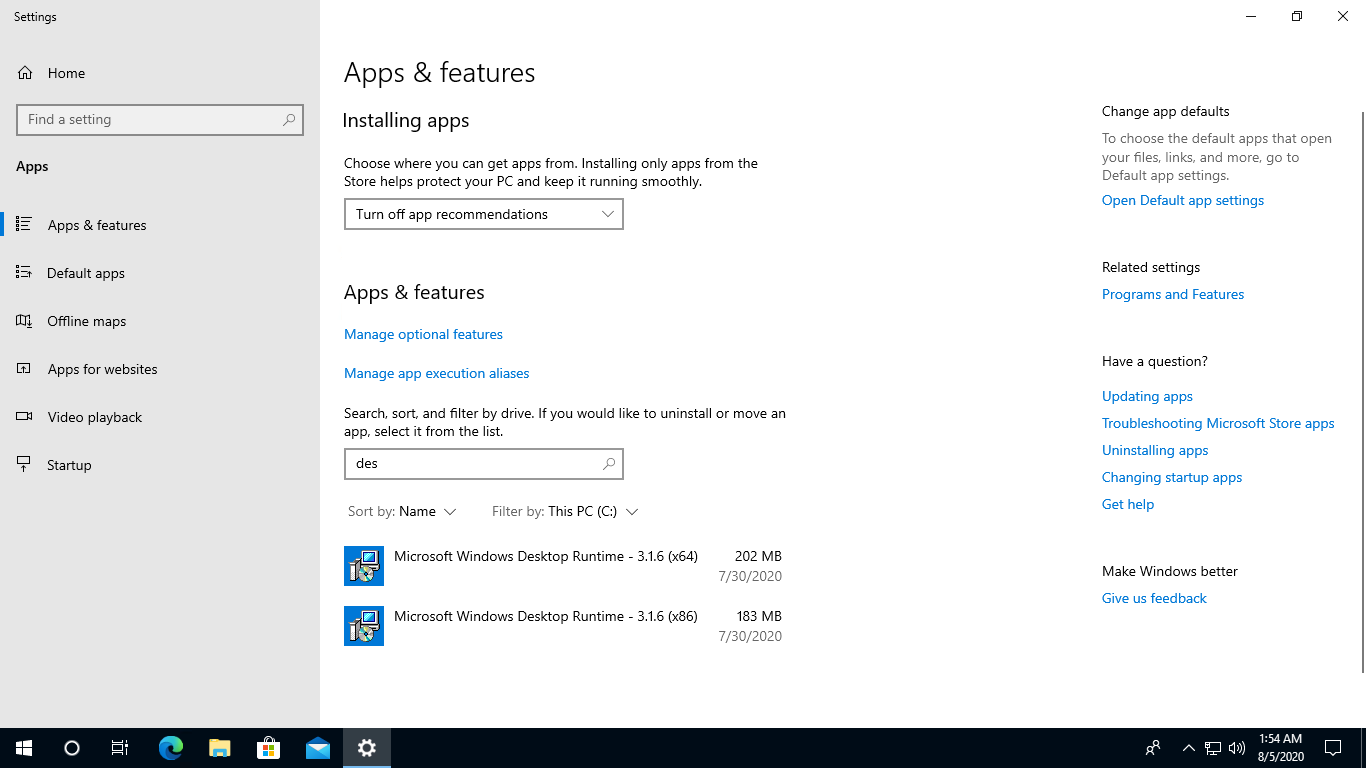 How about going Open Source?
Short answer: Not at the moment, not all of it.
Long answer: Certainly, that would speed up the development. On the other hand, it will slow it down too. Sometimes, a small team can advance more than a big community, especially in the beginning. We may reconsider it in the future.
Contacts
Community Support — our forum. The whole development team is there to help you.

Feature Requests — a board similar to UserVoice. Vote for features and propose yours. One feature per post, please.

Improving This Manual — we'll accept pull requests for fixing errors, spelling and wording mistakes, inconsistencies or ideas on how to improve this manual.
Saying hello — our Lunacy page has comments at the bottom. If you have a review of our work or just want to say hello, you're welcome!

Lunacy in the Windows Store — we depend on your honest feedback. Please vote and leave a review so more people will learn about Lunacy. Thank you 🙏🏽